Quality Bed Bug Control Services For Denton, Texas Home & Business Owners
Denton is a city located within the Dallas-Fort Worth metro area and is home to many different people and communities. Unfortunately, many pests live here in Denton as well, including bed bugs. Bed bugs are resilient pests that can be found across the United States. They can survive temperatures of nearly freezing up to about 120 degrees, which is why they can live in all 50 states despite the differences in climate. Bed bugs can cause many problems when they get into your Denton property, making effective bed bug control is a must. At Bullseye K-9 Detection, we are committed to accurately detecting and eliminating bed bugs from your business. We specialize exclusively in bed bug inspections and elimination, which means you can depend on us to get the job done right. Contact us today to request your free inspection.
How To Identify Bed Bugs In Your Denton, TX Business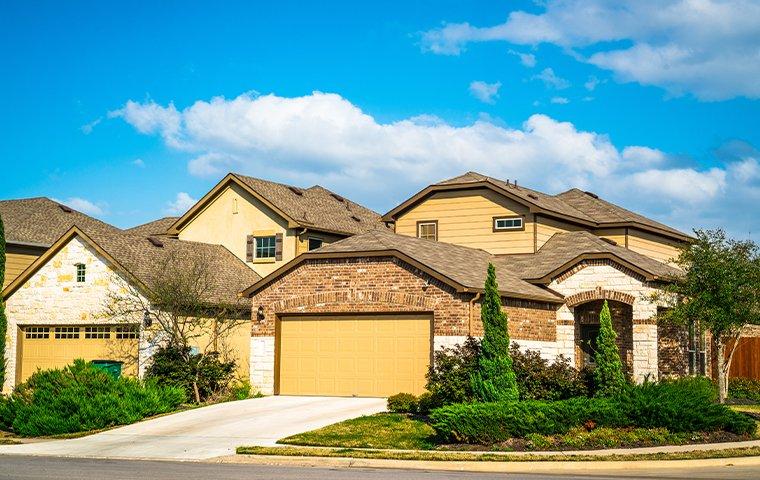 Bed bugs are nocturnal pests that prefer to avoid the light and only come out to feed once their victims have fallen asleep. Although bed bug infestations are common in hotels and motels, they can also occur in office buildings, hospitals, and other businesses. These tiny pests are known to hide inside furniture, under floorboards, in mattresses, behind wallpaper, and inside electrical outlets. The last thing you need to deal with in your Denton business is bed bugs disturbing your customers and ruining your reputation.
Unfortunately, bed bug infestations can be difficult to prevent, especially because your customers and employees could bring them into your commercial facility without knowing it. Your best option is to learn how to identify when bed bugs are living in your business so that you can receive effective bed bug treatments as soon as possible. There few signs that bed bugs leave behind, such as:
Tiny white eggs

Spots of rust-colored excrement

Bloodstains on furniture, sheets, and clothing

A strong musty odor, especially in large bed bug infestations
The most effective way to identify a bed bug infestation in your Denton business is with the help of the experienced bed bug specialists here at Bullseye K-9 Detection. We use a team of specially trained canines to detect bed bug activity on your property. Reach out to us today to learn more about our bed bug inspection process.
Bed Bug Control Services In Denton, TX
At Bullseye K-9 Detection, we understand that bed bugs can invade a wide variety of commercial facilities, which is why all of our technicians are trained to work professionally in all kinds of business environments. We work quickly to eliminate bed bug infestations in only one visit through the use of full-space heat treatments, heat chamber treatments, and chemical treatments, depending on your needs. Our goal is to provide effective bed bug control services that exceed your expectations and stop bed bugs in their tracks. Don't hesitate to contact the professionals here at Bullseye K-9 Detection today to ask about all of our bed bug treatment options.
Frequently Asked Questions About Bed Bugs In Denton, TX
Although many people have heard about bed bugs, you may not have dealt with them personally before. This can raise a lot of questions about bed bugs and their habits and behaviors. Below are a few of the most common questions people have about bed bugs:
What Are Bed Bugs?
Bed bugs are small, reddish-brown pests with flat, oval bodies. They feed on the blood of humans and animals and are often found inside homes and commercial properties.
How Do Bed Bugs Invade?
Unlike most other pests, bed bugs don't crawl around the exterior of your property looking for a crack or crevice to crawl through. Instead of hopping or flying to get around, bed bugs are hitchhiking pests that travel from one area to another by hitching rides on furniture, clothing, bags, and personal belongings.
Are Bed Bugs Dangerous?
Bed bug infestations can inflict unwanted bites, cause stress, and lead to a lack of sleep. Although bed bugs can cause many problems in your business, they are not currently considered dangerous pests.
To eliminate bed bug problems from your Denton commercial property, don't hesitate to get in touch with Bullseye K-9 Detection today.
The Truth About Commercial Bed Bug Prevention In Denton, TX
Even though bed bugs were nearly eradicated in the 1970s, these irritating pests have made a massive comeback and are now a widespread problem across the United States. Bed bug infestations can be incredibly difficult to prevent and nearly impossible to remove without professional help. People unknowingly come into contact with bed bugs as they go to work, school, friends' houses, or while traveling through public spaces. There's not much you can do when it comes to preventing other people from bringing bed bugs to your commercial property. Your best option is to put into place a bed bug control protocol so that you can quickly identify and eliminate bed bugs as soon as they show up in your Denton business. At Bullseye K-9 Detection, we provide routine inspections and effective bed bug treatments to ensure bed bug infestations are eliminated from your commercial facility for good. Give a call to the professionals here at Bullseye K-9 Detection today for more information about how we deal with bed bug infestations.
Request Your Inspection
Complete the form below to schedule your no obligation inspection.