Bed bug infestations are a unique challenge for lodging managers in Dallas. These insects don't come in through gaps and cracks in the exterior of your business. They're carried in by guests. They may even be carried in by the guest who reports them to the front desk. So, how do you protect your reputation from bad reviews on social media? You develop a bed bug action plan.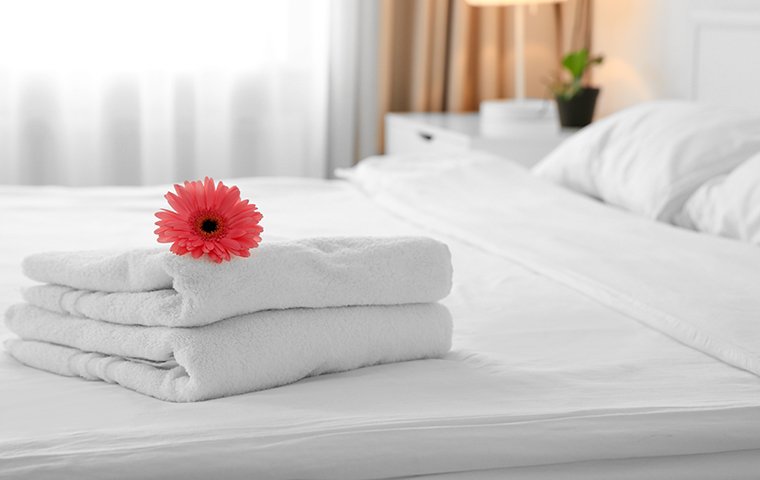 How A Bed Bug Action Plan Protects Your Business
When a guest finds a bed bug, the most important thing they want is a reasonable response to their concerns. You can meet this need by providing helpful information about this pest problem and assuring your guest that a plan is in place to fully protect them.
Let your guests know that bed bugs don't infest dirty places. They can be found in the cleanest of locations. They're not attracted to filth and bacteria. They establish themselves near beds and couches so they can have access to a blood meal at night.
Inform your guest that bed bugs are pests that can't be fully controlled because they are tiny insects that are carried in by guests and hide in gaps and cracks.
Explain that cleaning staff is trained to do a detailed inspection for bed bugs as they clean, but that it is difficult to detect bed bugs because they hide in places that are difficult, or impossible, to see into.
Reassure your guest that you have routine inspections for bed bugs, and that this is an isolated issue, not a widespread infestation.
Offer to provide your guest with another room that is not adjacent to, above, or below the room with the infestation, explaining that bed bugs can get into wall voids and spread from room to room. Let them know that this is just an added precaution, and that it is unlikely that the insects have had a chance to spread.
Consider throwing in something complementary as an apology for the inconvenience.
These steps work together to let guests know that you have done everything possible to ensure that they have a safe and comfortable stay, and it reduces the risk of bad reviews being posted on the internet.
How Bullseye K-9 Detection Can Help
We provide ongoing bed bug inspections and bed bug treatments for Dallas businesses to prevent bed bug infestations from taking root. This proactive detection and prevention will give your business essential protection from the devastating impact bed bugs can have on your reputation.
Detecting Bed Bugs — We do this with incredible accuracy through the use of K-9 detection. Dogs have a powerful sense of smell. They're able to use their sense of smell almost like x-ray vision. Dogs are utilized to detect drugs, bombs, ammunition, and more. Our dogs are trained to detect the presence of bed bugs, and they do this faster and more accurately than a trained pest control professional. Our K-9 detection teams can move quickly through several rooms with little or no disruption to the items in the rooms, and quickly locate areas of infestation. This allows our technicians to locate spots that need to be treated and to ensure that there are no bed bugs present after the treatments are concluded.
Targeted Treatments — Once our K-9 Bed Bug Inspectors have located the enemy, we use state-of-the-art bed bug control methods to exterminate those insects. This may include a full space heat treatment, the use of heat chambers, or chemical treatments. Treatments can be done discreetly so that no unwanted attention is brought to this problem.
Dallas Bed Bug Control
When you have the team at Bullseye K-9 Detection locate and eliminate your bed bugs, you can know that you're getting the highest level of bed bug control possible. We specialize in bed bug control. You're not hiring a general pest control company. Our state-licensed technicians are trained and experienced in locating and eradicating bed bugs. We provide one-time service as well as ongoing inspections and targeted treatments. If you're looking to protect your business from the harmful impact of bed bugs, the right choice is Bullseye K-9 Detection. Reach out to us today. We look forward to assisting you with this important protection for your Dallas-Fortworth area business.