Quality Bed Bug Control Services For Addison, TX Home & Business Owners
Known as the restaurant capital of Texas, the town of Addison, TX, is quite the tourist destination. With so many places to eat, and so many people exploring the restaurant scene, we experience a considerable level of human activity throughout the year. Where there are humans, there are bed bugs, and that poses a real problem for Addison properties. If you want to guard your home or business against a bed bug infestation, the best approach is prevention, and that starts with Bullseye K9 Detection.
Here at Bullseye K9 Detection, we are proud to specialize exclusively in bed bug control services. We are the area's go-to source for complete bed bug treatments. We've been servicing homeowners and business owners with quality bed bug solutions since 2016, and our team brings over 20 years of combined experience to the table. Using specially trained K-9 detection dogs, we thoroughly inspect the area and identify problem areas that need to be treated. You can count on our team for the best results possible. Canine detections are more accurate, more efficient, and less of a headache than typical bed bug inspections. Reach out to us today to learn more about our bed bug control services, we look forward to your call.
Guide To Bed Bug Identification In Addison, TX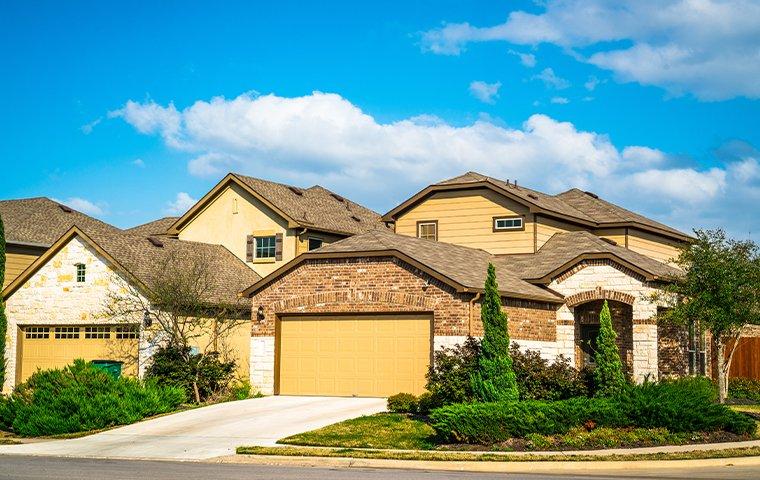 The first step to accurately identifying a bed bug problem is being able to detect these parasitic critters in the first place. It's important to be able to differentiate these pests from other species so that you can effectively address the problem in a timely, effective manner. To give you a brief overview of what a bed bug looks like, here are some basic characteristics to keep in mind:
Elongated mouthpart

Flat, oval-shaped body

Mahogany/brown color

Six legs

Up to 1/4 of an inch long

Wingless
These tiny parasites can be hard to detect, and it can be frustrating not knowing how they got inside in the first place. There are some common areas where bed bugs seek harborage within your space. Their main goal is to find easy access to their food source, so anywhere near human activity is their first choice. Bed bugs are often found in wall cracks, crevices in wooden furniture, fibers of the carpet, inside electronic keyboards, seams of mattresses and box springs, upholstered furniture, and wall voids. The best way to accurately identify a bed bug problem is to call in the professionals. Call in the team at Bullseye K9 Detection to get started!
Why All Addison, TX Property Owners Should Consider Professional Bed Bug Control Services
Discovering bed bugs in your home or business is a nightmare that we wouldn't wish upon anyone. Unfortunately, it's a possibility that Texas property owners should be prepared to face. The best way to deal with a bed bug infestation is to rely on a team of pest experts. The team at Bullseye K9 Detection focuses exclusively on bed bug detection and elimination, so you can feel confident knowing we'll get the job done, guaranteed.
As the only standalone bed bug service provider in all of North Texas, we pride ourselves on our accuracy, our efficiency, and our effectiveness. We use a team of highly skilled canines that are trained specifically to sniff out bed bugs. Once we identify the problem, we utilize full space heat treatments, heat chamber treatments, and chemical treatments that promise effective year-round results. As members of the National Pest Management Association (NPMA) and the Texas PMA, we hold ourselves to a high standard of excellence. Bullseye K9 Detection guarantees reliable bed bug control services that give you the peace of mind you need to sleep at night. Contact us to set up a complimentary inspection.
Frequently Asked Bed Bug Questions In Addison, Texas
How Do Bed Bugs Travel From One Place To The Next?
Bed bugs hitchhike from one surface to the next, traveling via their ability to latch onto something or someone that is moving between rooms. This is how the infestation can spread quickly throughout a property.
Are Humans The Only Hosts That Bed Bugs Feed On?
While bed bugs mainly feed on the blood mean of humans, they can also feed on the blood of other warm-blooded animals like birds and poultry; but human blood is their primary food source.
Are Bed Bugs Dangerous?
Bed bugs aren't dangerous in the traditional sense, meaning they don't really pose a real threat to your health or safety. However, they do contaminate your space and make it so you may have to dispose of certain belongings. Also, they can emit a musty odor from their scent glands, creating an unpleasant, moldy smell.
Bed Bug Prevention Tips For Addison, TX Property Owners
It can be frustrating feeling like bed bug infestation is completely out of your control. If you want to be proactive in your efforts to avoid bed bug infestation, there are some things you can try. Consider the following preventative measures when it comes to taking action in your bed bug control efforts:
Cover your box springs and mattresses with protective encasements that keep bed bugs out.

Eliminate clutter around your home, reducing conducive hiding spaces.

Inspect items before bringing them inside. Pay special attention to second-hand items such as furniture and clothing.

Steam clean all your curtains, upholstery, and other large items with fabric.

Wash and dry all the bedding and linens on high heat.
These tips are a great place to start, however, none of them are as effective as professional bed bug control services. The smartest thing to do in regard to bed bug control is to reach out to the team at Bullseye K9 Detection. We are highly experienced in the complete detection and extermination of bed bug activity, and we're ready to rid your property of these parasitic pests so that you can sleep through the night, pest-free, and at peace.
Request Your Inspection
Complete the form below to schedule your no obligation inspection.